Gerbera daisies are popular with flower gardeners year-round, but they can be difficult to keep looking pristine.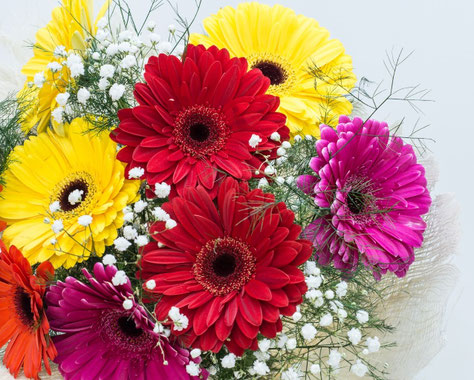 The goal is colorful, fluffy blooms, with tall stems, but that goal can be hindered by pests, fungus, and small brown spots. Sudden brown spots on leaves of otherwise healthy Gerbera Daisies can be concerning, but is it a big problem?
No. The brown discolorations are usually Alternaria—a fungus that thrives in humid environments.
Causes of Brown Spots
The Gerbera is native to mild-moderate climates and can be fussy about watering. The most common cause of the brown spots is water splashing onto the leaves.
After a rain, you are more likely to see spots on leaves. Watering with a hose or sprinklers can also cause water to come into contact with the leaves. Watering the base of the plant directly prevents water from splashing the leaves.
Solutions
See this video:
When watering your Gerberas, it is best to thoroughly water, add dry soil, then water again. Too much water can also cause the brown spots as well as other fungi to grow.
Soil should be kept moist, but not soaked. Be sure that there is excellent drainage in the flower bed or pot.
In the spring and summer, frequent feedings keep the plant healthy. Old or dead leaves should be pinched off and discarded when new leaves grow in.
Leaves that fall off naturally should be discarded and not left near the plant as this can encourage fungus growth.
Avoid wetting leaves when watering. 
Do not use sprinklers or overhead watering. 
Water the base of the plant only.
Water. When the soil gets dry, water again.
Plant with good drainage.
Feed frequently.
Remove and discard old leaves.
Where To Plant
Gerberas are best planted where they can get morning sun, but afternoon shade.
Plants should be spaced evenly to allow for growth and air circulation. If you live in a cold climate, pot your plants to bring indoors for the winter.
Gerberas can also thrive indoors with window sunlight.
---
The brown spots on Gerbera Daisy leave may be unsightly, but they are easy to prevent and get rid of.
With these tips, you'll have lush green leaves on your Gerbera Daisies in no time.